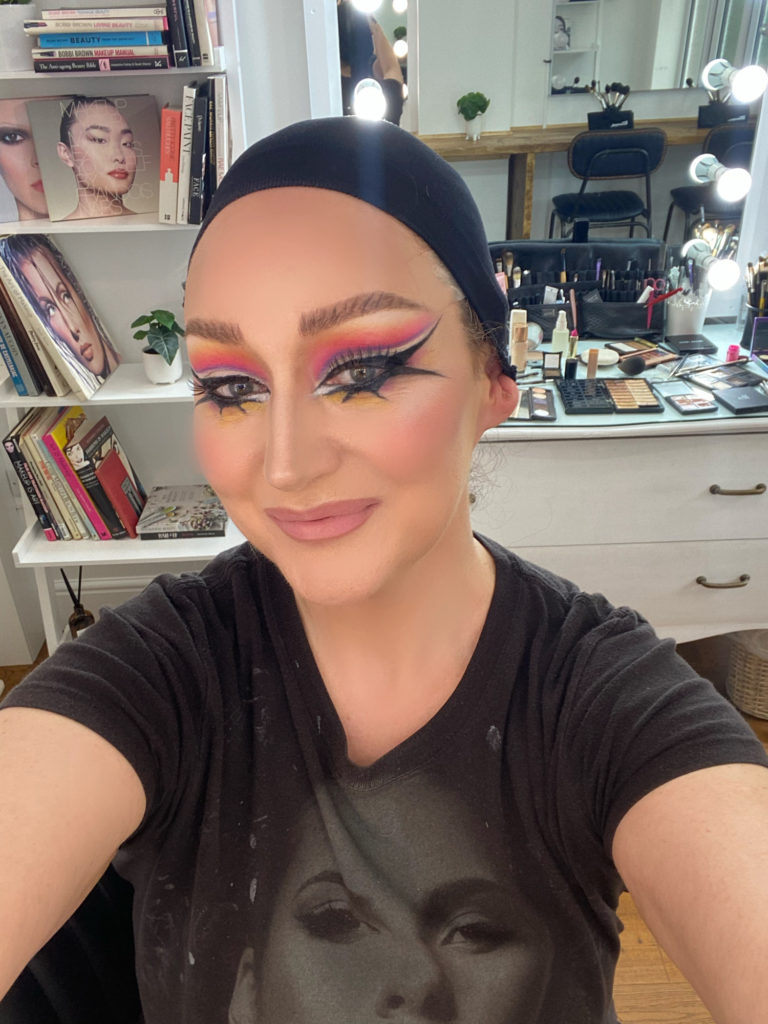 Hi all, just thought I would touch in with you all. I hope you are all doing ok.
I haven't been posting much on my social media just lately, as I am not really into it all these days. I find it quite draining and I find I am much more productive when I haven't been down the rabbit hole, so to speak! I have been focusing on walking, yoga and baking in-between working. It is working for me.
I had the urge to do a drag makeup recently, after the sad news of Paul O'Grady aka Lily Savage and also Dame Edna Average. I had seen a drag makeup that I been inspired by too, so thought I would have a play and create something. I had forgotten how time consuming it all is, doing something like this...this one took me nearly 5 hours, but I think I was just happy in my own little world, playing with makeup, rather than being on a deadline with it. It was good to go back to my creative roots and do something different.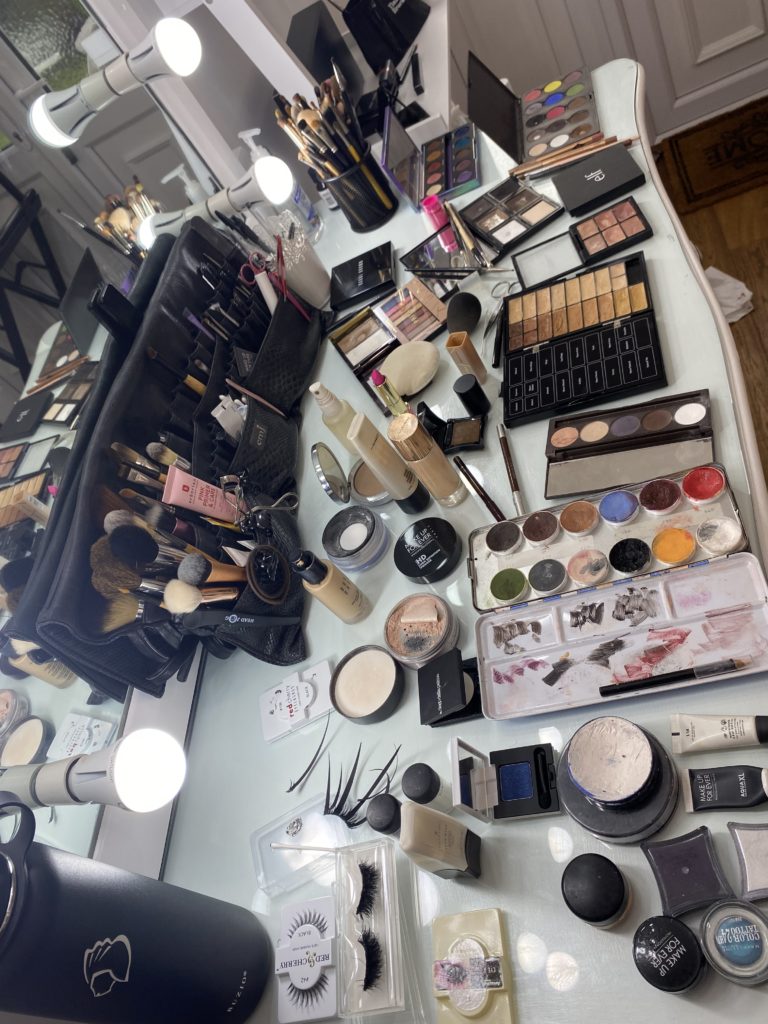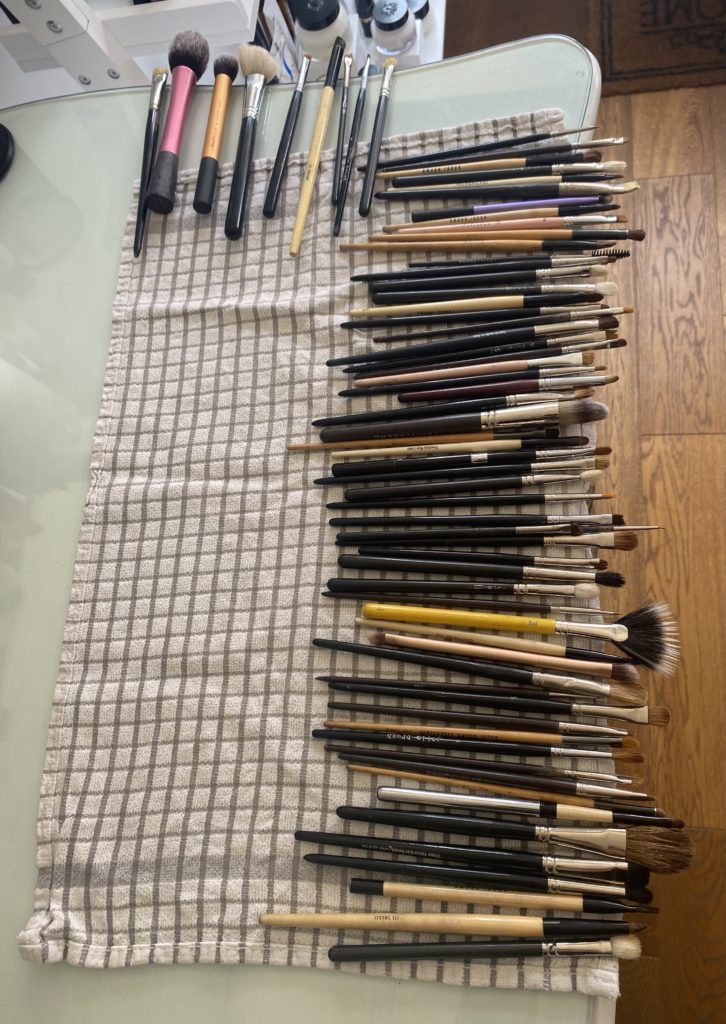 I used some Mark Traynor tapes, and you attach these either side of your temples or underneath your jaw at the side, to create a face lift effect. I used tonnes of makeup - mainly my Kryolan supra colour palette, Illamasqua, MAKEUP FOREVER and MAC products.
I've also recently subscribed to Beauty Pie. I have been wondering what all the hoo haaa, was about. I was dead impressed with my haul. You pay £59 for the year and get lots of high end products but without the price tag. I highly recommend it.
See below what I bought...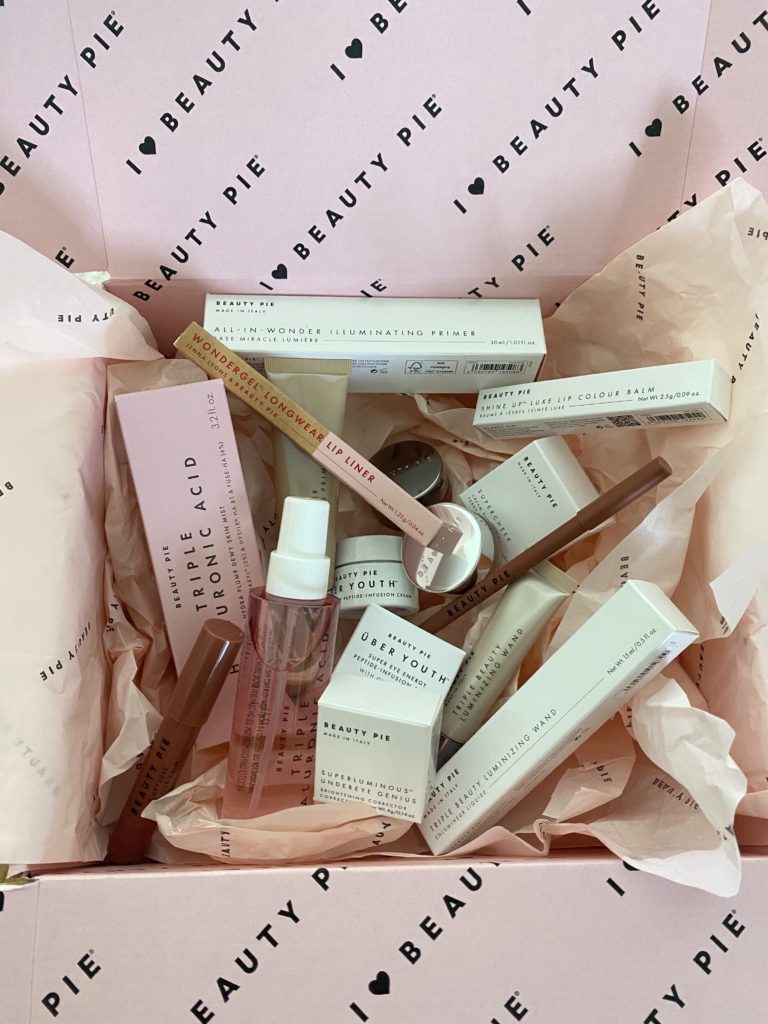 Here is me, (below), after using the products and my fave has to be the All in wonder Illuminating primer, it's sooo nice! it really evens out the skin, isn't too shiny on the skin but gives a lovely, natural finish, quite dewy.
I also really rate the Superluminous under eye genius if you have darkness under your eyes, I like to use it first, then go over with a yellow based concealer. Just use it on the dark part of the darkness to add luminosity and correct the darkness.
I also bought the Super drops flash face lift, (great name eh! and yes, it caught my eye! I am such a sucker sometimes!!although, to be honest, I was not impressed with the drops, I much prefer using an oil). I found this a bit meh and underwhelming.
Wondergloss collagen lip oil - Yes, a nice sheen and for £10 I can't grumble!
I have been suffering from dry/sensitive eyes, so bought their Perfect eye, Bi-phase, gentle eye makeup remover - its quite good and doesn't sting or irritate my eyes. So far so good.
Wonderful long wear lip liner in Vanilla nude - not a fan of the colour, seems a bit 'brown based' for my liking, but I have been using it as a base to see if it helps the longevity of my lipstick and seems ok, as long as my lips aren't too dry. I much prefer using a mixture of priming my lips first with a bit of concealer or primer, then applying lipstick, (ideally matte), then blotting again and reapplying a lipstick, then defining my lips.
Shine up lip colour balm stick in Baby bare - a nice texture, VERY sheer, almost too nothing-y?? but nice if you like that kinda thing. I personally like a bit more pigment.
Triple Hyaluronic acid dewy skin mist - I am really into this. It's nice to add in-between a skincare layer, (usually just before your moisturiser). Or nice even before you add your foundation or at the end of make. My skin is quite dehydrated and dry, so find this adds a lovely glow.
Uber youth peptide cream - I bought this as my eyes are getting a bit dehydrated and I have used the Bobbi Brown Extra repair cream for yonks. This texture is quite a bit lighter so I was a little disappointed with that, (after being spoilt with the texture of the Bobbi Brown one). Anyway, I will keep on using it and see if it helps...
Triple beauty luminizing wand - I really like this, and for £9 it's a good product! It's very much like the Charlotte Tilbury highlight wand, but without the ridiculous price tag. I hate the applicator though. I much prefer a pot and just use a brush or fingers, not the spongey tube applicator.
Supercheek cream blush in Astro pink - I do love a cream blush. It is very sheer but has a good amount of pigment in it. Easy to blend and looks very natural. Again, a good price at £12.50!
I am also loving me a bit of NYX - their lip pencils and eye pencils are very good! again, a good price point.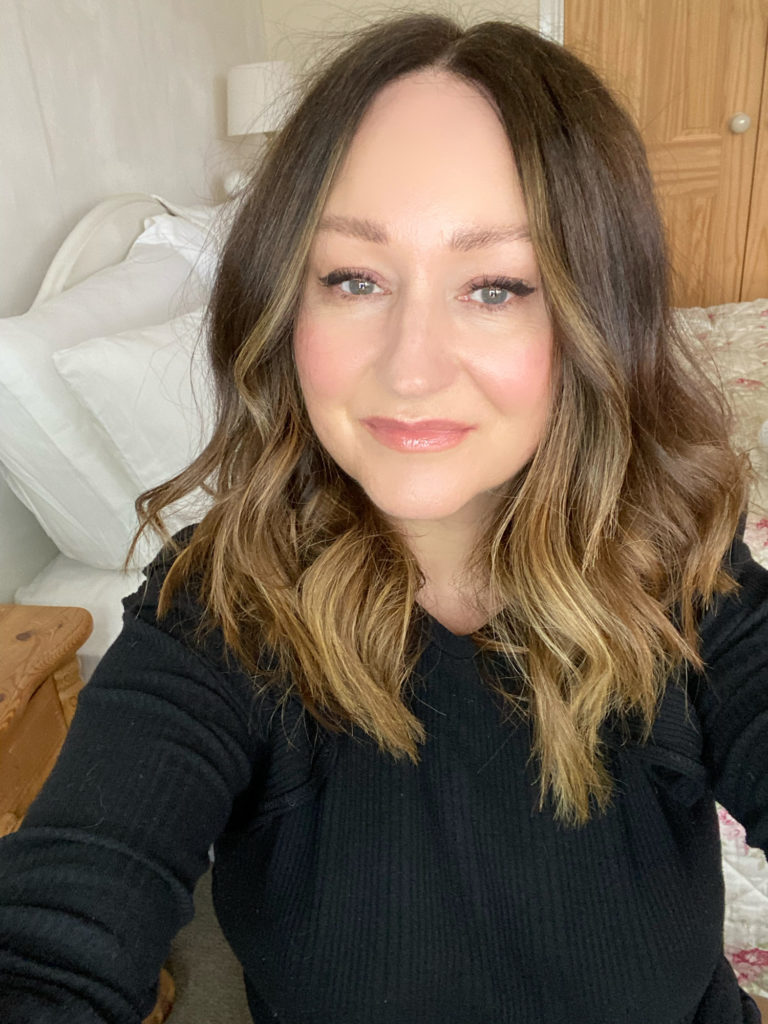 Work has been keeping me busy, although currently I am experiencing Benign positional vertigo! has anyone ever had it? if so, please get in touch with any tips! I have been to a physio and I am doing some exercises but it is VERY scary!! It is worse when turning over in bed, honestly it is so weird and I hope it buggers off soon!!
Oh, here is a recent lovely review. It is always so nice to see a review, especially when someone is so kind and has taken the time to write it...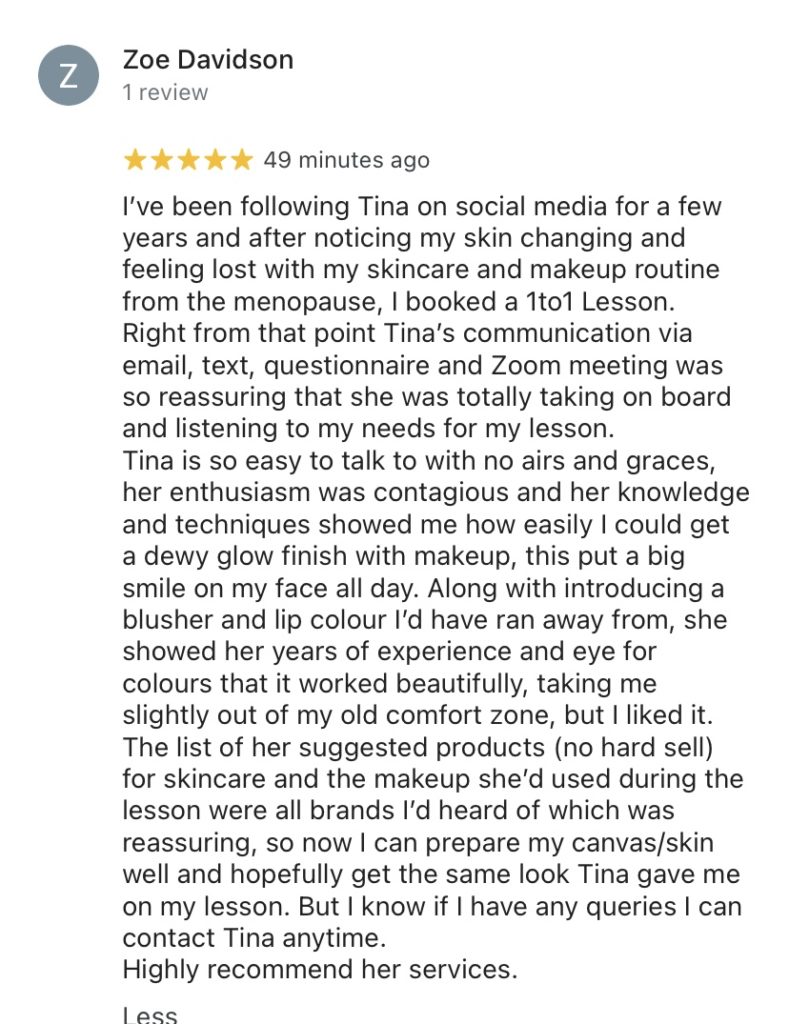 Here is a recent client who visited me for a makeup lesson, after her Mum had bought her a Gift voucher. A 'no makeup, makeup' lesson. She also wanted to learn how to conceal under eye darkness...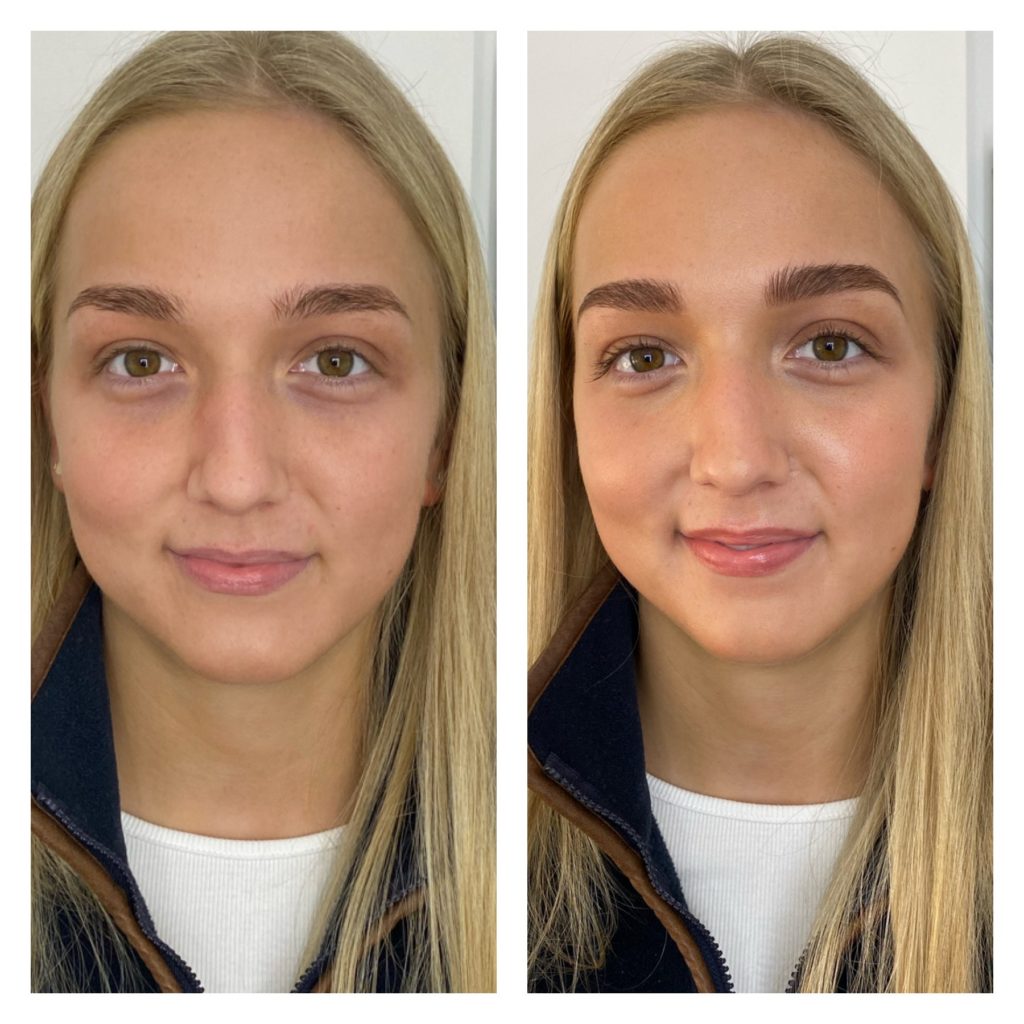 ...I think you will agree, she doesn't look like she is actually wearing much makeup at all, and to me, that is the best kind of look to go for, as why would we want to look like anyone else or mask our skin, especially if its this beautiful?! I just used a Moisturising balm from Bobbi Brown, (discontinued, but you can get the same from Jones Road called 'what the foundation'. It's a beautiful product. Brows were just softly defined with eyeshadow and set with a bit of Charlotte Tilbury Legendary brow gel. I corrected any darkness with a Bobbi Brown corrector stick and also used this on top of the eyes too, as Emily did not like her darkness on top of the eye either, then I just set this with a bit of powder.
One coat of Jones Road black mascara, (Emily did not want any liner or eyeshadow). I then applied a bit of cream blush, this one I think was Max Factor but Glossier do beautiful ones too called Cloud paint, which are very sheer and dewy. I then used my new Beauty Pie Luminizer on the top of the cheekbones.
Emily just usually uses a clear lip balm, so I just used a Glossier one first, blotted it off, then applied a Charlotte Tilbury lip pencil in Pillow talk and then used a Bobbi Brown lip gloss in Bellini on the top. Emily loved the result!
I have been quite busy with Online makeup lessons and I am really enjoying doing these! I can connect to people all over the U.K and my newest client is from the Lake district and I am teaching her how to do her wedding makeup, ready for her big day in August. I have also doing some Online lessons for clients who wanted help with their own makeup dilemmas and I always include skincare in this. I am very thorough. I have had some great feedback and love doing these. It seems I have ventured into the world of technology, (it has been a long time coming!) who knows, I might even dabble with some lives soon or a spot of videoing...who knows?!
I really like the quote below, as it reminds me why I dislike social media so much, as personally I do think the comparison trap kills creativity. I think that these days if you don't get 'likes' it can really affect your mental health and it can make you feel very inferior, (I know it tends to have this effect on me), so now what I do is post something, (now and again) and then delete the app after, and not look to see who has liked my post, because for me, it really isn't about that, it is more about connecting to people, being helpful and not showing off. I do find it a bit cringey.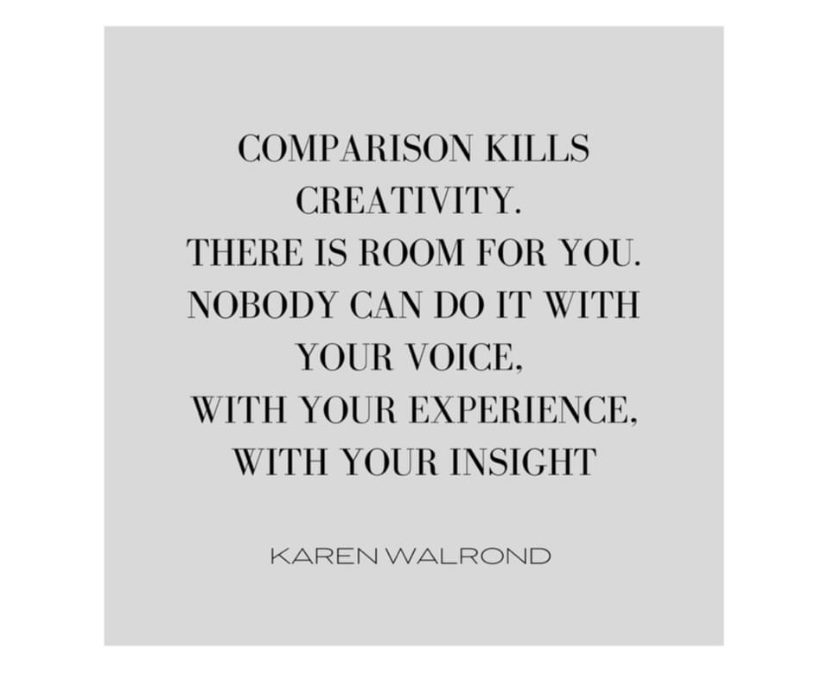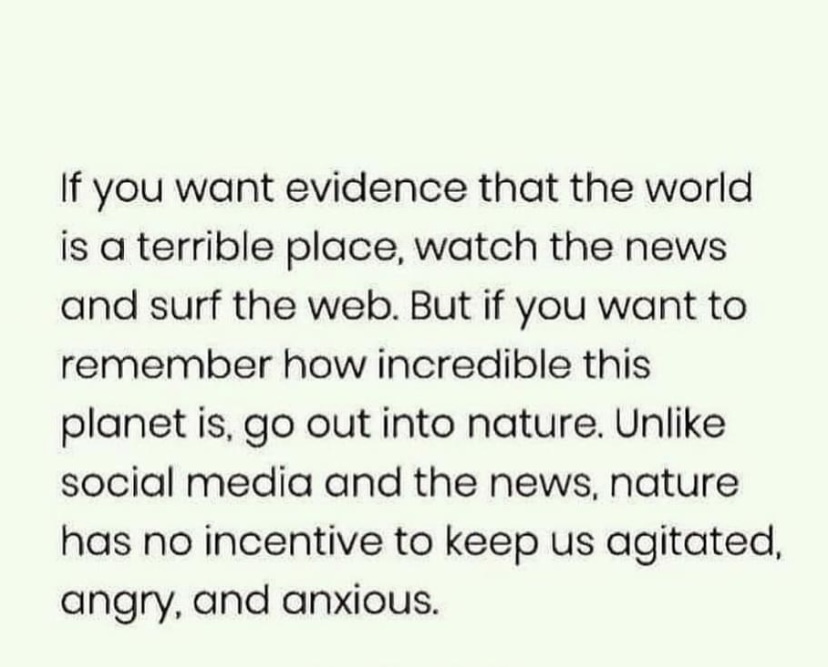 I love spending time offline. I love being with people who make me laugh, (I have found a few new friends recently at the gym. We always have a laugh when we hear people breaking wind in the class, especially during a yoga class!!!) I think we should never underestimate the power of being with good people, and not virtually either I mean.
I love doing yoga and walking my dogs. I have also been doing a lot of cooking and baking!...the more time I spent offline, it makes me realise how little I need it in my life...(and how much I love my dogs).
Here are some examples of my makeup lesson work and my makeup studio too...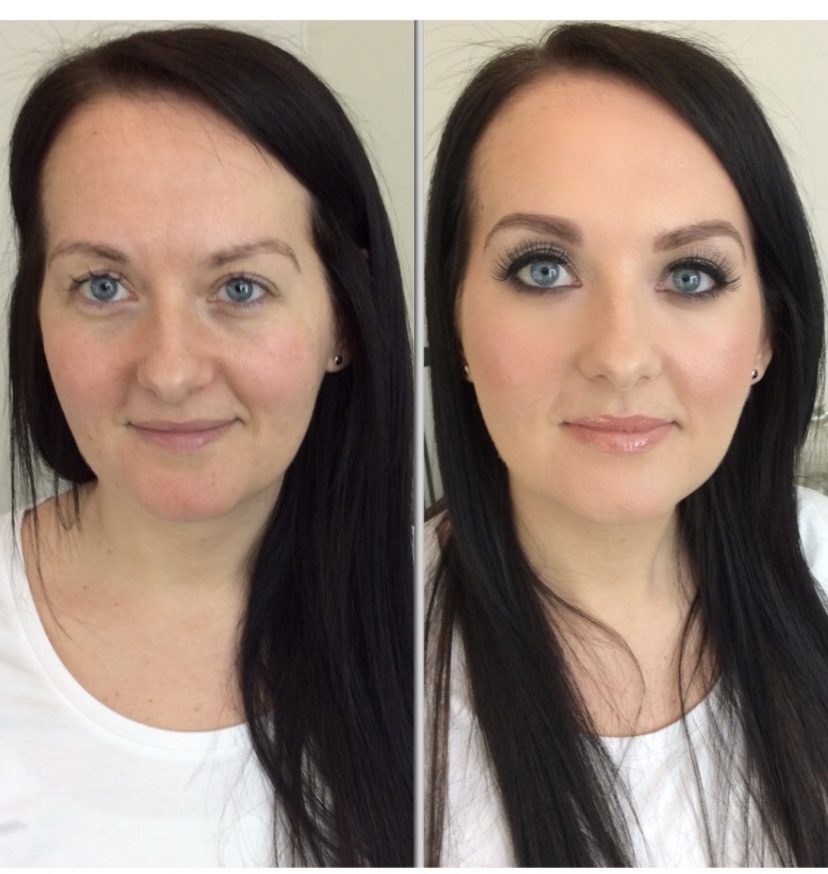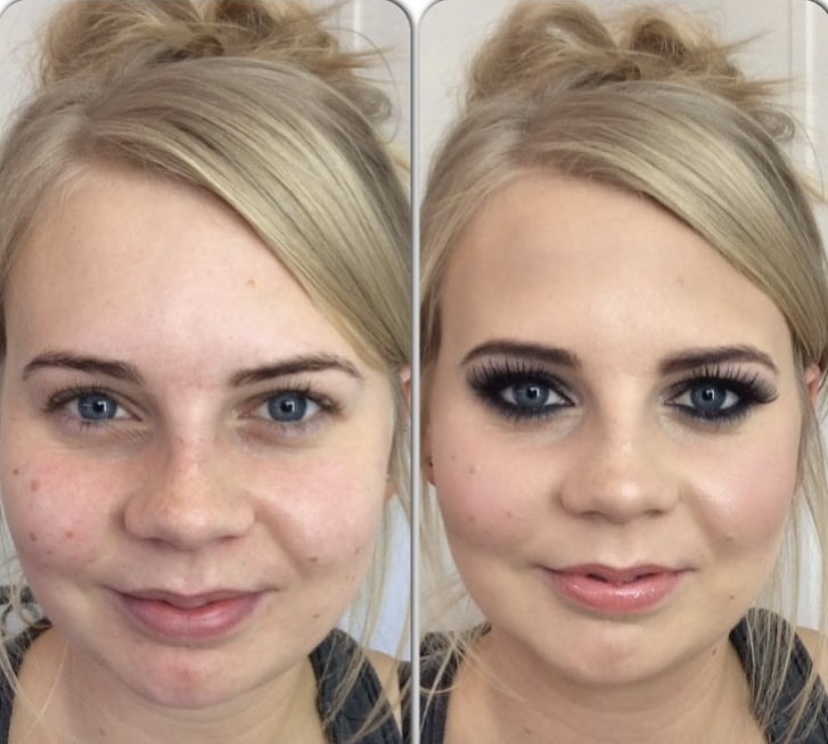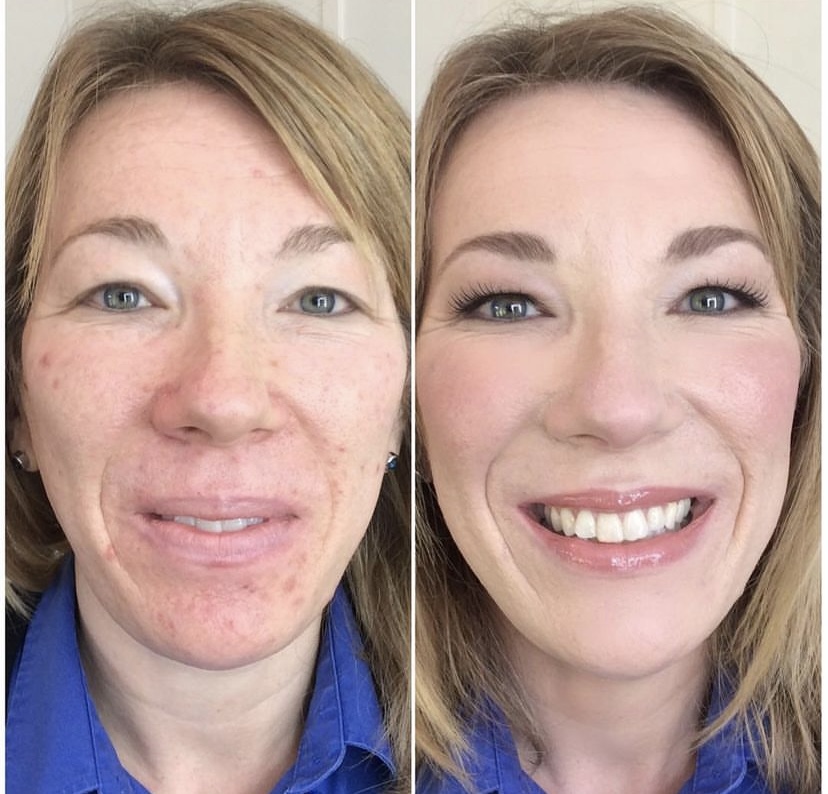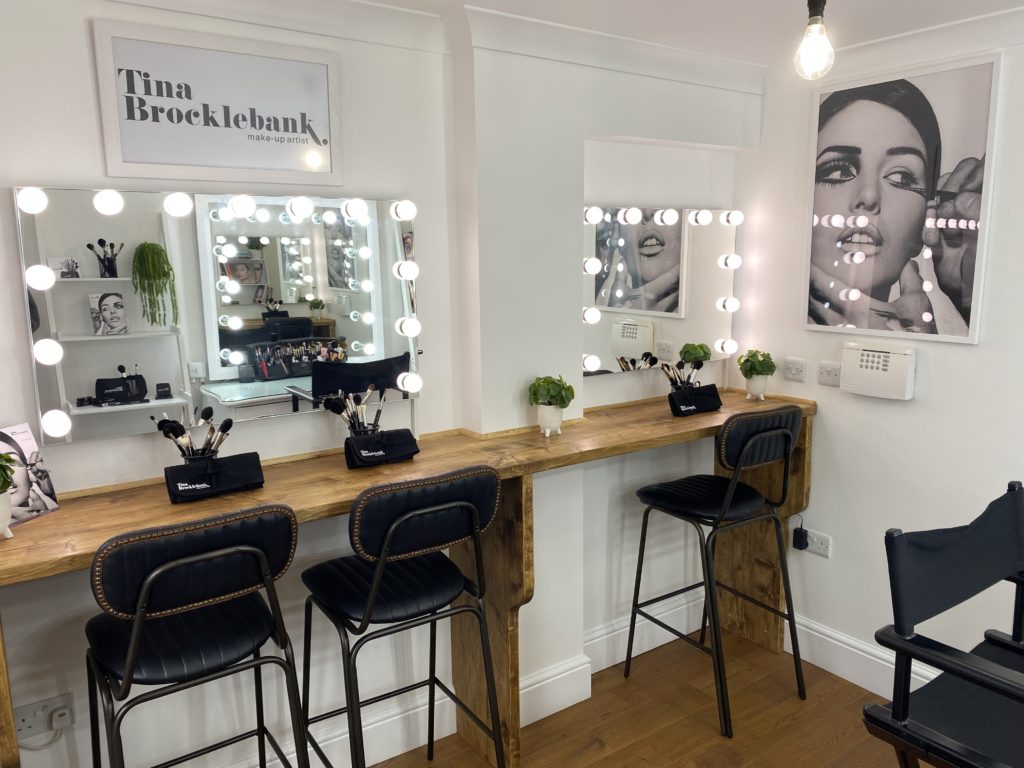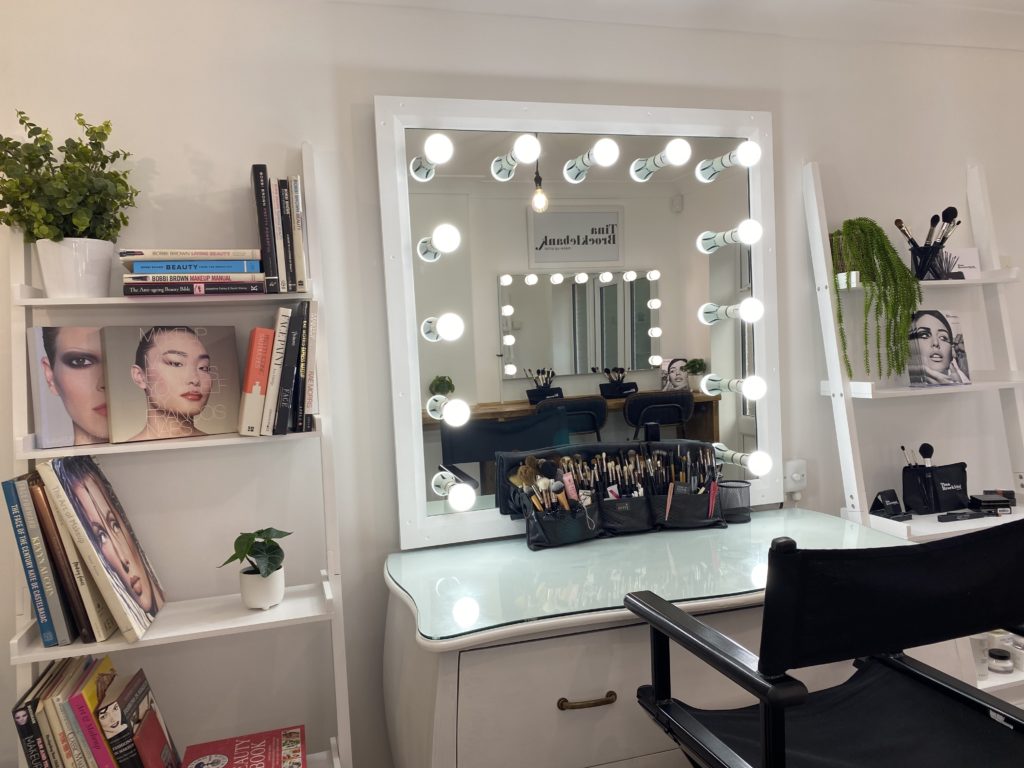 My Pro brush set, available to purchase online now.
I am really proud of my brush set. Vegan and each brush is hand made in the U.K. I think once you have a good set of makeup brushes it makes your makeup so much easier to apply and also last longer plus looks so much better than if you use one brush for everything??!! I was actually given the contact details from one of my lovely Make-up artist friends, (and idols), Maggie Hunt. I have been in touch with Maggie for a few years now and she often messages me and I sometimes ask her for her opinion about something. I always admired Maggie's work when I was in my 20's and living in London. I used to look for the credits in Vogue and Elle and often, Maggie had done the makeup for the shoots.
I got in touch with her a few years back to tell her I was a big fan, and we have been in touch ever since.
Maggie is Sam and Nic Chapmans Aunty, (Pixiwoo and Real Techniques fame), and she used to do Princess Diana's makeup, David Bowie and all of the celebs! I am so honoured to be in touch with her and she says my work is 'exceptional' and that makes me happy! You can purchase them via my website and I highly recommend them! I am so confident about them, that yes, I have put my name on them, (go me!)
Maggie gave me a contact for my brush range and I shall ever be grateful for her helping me to do that, as it has been a dream of mine for a long time. Maggie also has her own brush range.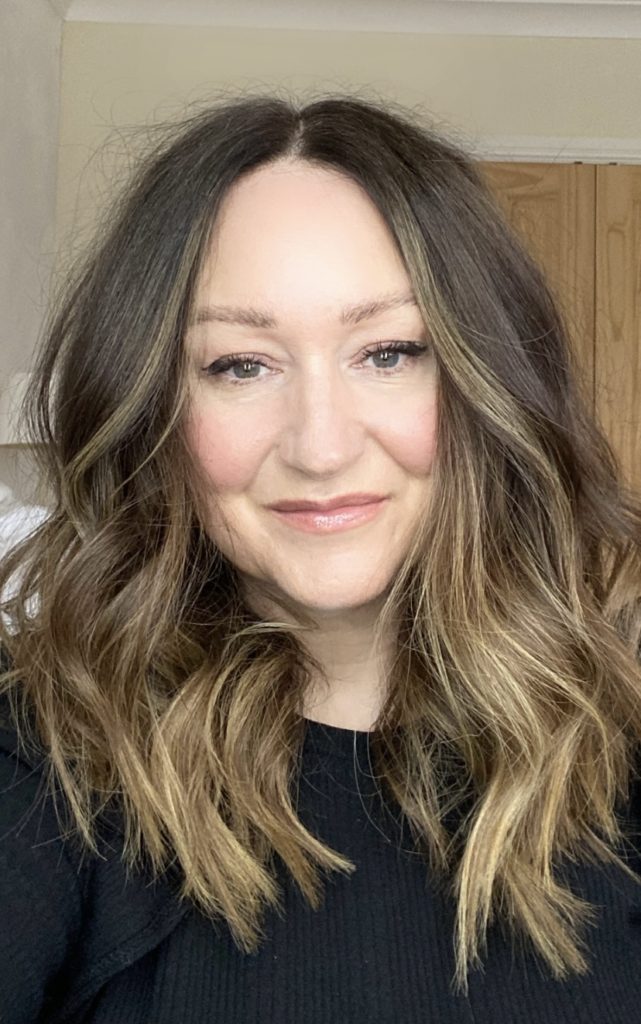 Anyway, bye for now and please get in touch if you want me to blog about anything or if you want any questions answering.
Keep smiling x x x :0) and thank you for subscribing to my blog. I may be introducing some new classes soon, so keep your eyes peeled. These may be Online or in my studio. Let me know if you are interested. They may be mini classes, such as foundation sessions or covering up under eye darkness. Just bitesize classes...what do you think? let me know.
P.S -(Below see my Re-touch kit which includes 3 of my brushes, pressed powder, lipstick and lip pencil, one of my compact mirrors and a makeup bag - these are a good idea if you have had your makeup done by so you can re-touch, if needed). You can purchase one of these online too, as well as purchase Gift vouchers.