Hello! so with Summer now upon us, (she says looking out of the window and it is heavy rain!) I thought it would be a good idea to send my loyal subscribers and followers, details of some Summer offers that I will be running from now up until September the 17th 2023. I am offering 25% off to the below bundles/services!...
A 1-1 Make-up lesson at my studio, including my 12 piece Make-up brush set and brush wrap is £268.98 (a saving of 89.67!)
A Make-up lesson at my studio, including my 12 piece Make-up brush set with bag is £240.48, (a saving of £80.17!)
An Online makeup lesson via Zoom with my 12 piece Make-up brush set with brush wrap is £231.48, (a saving of £77.17!)
An Online makeup lesson via Zoom with my 12 piece Make-up brush set with bag is £202.98, (a saving of £67.67!)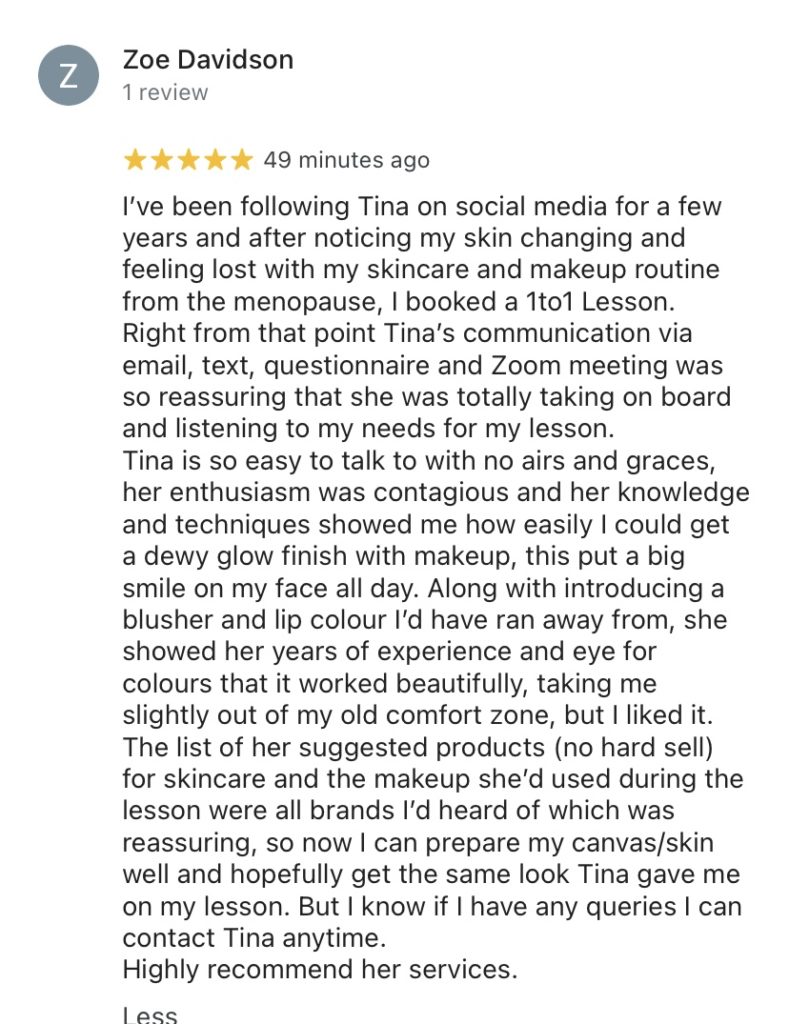 Once you have had the Makeup lesson with me you then qualify for a *Follow-up Online Makeup lesson with me, at the reduced rate of £75, (a saving of £25!) The follow up lesson will enable us to run through everything and you can ask any questions or go over anything you want to discuss, all in the comfort of your own home!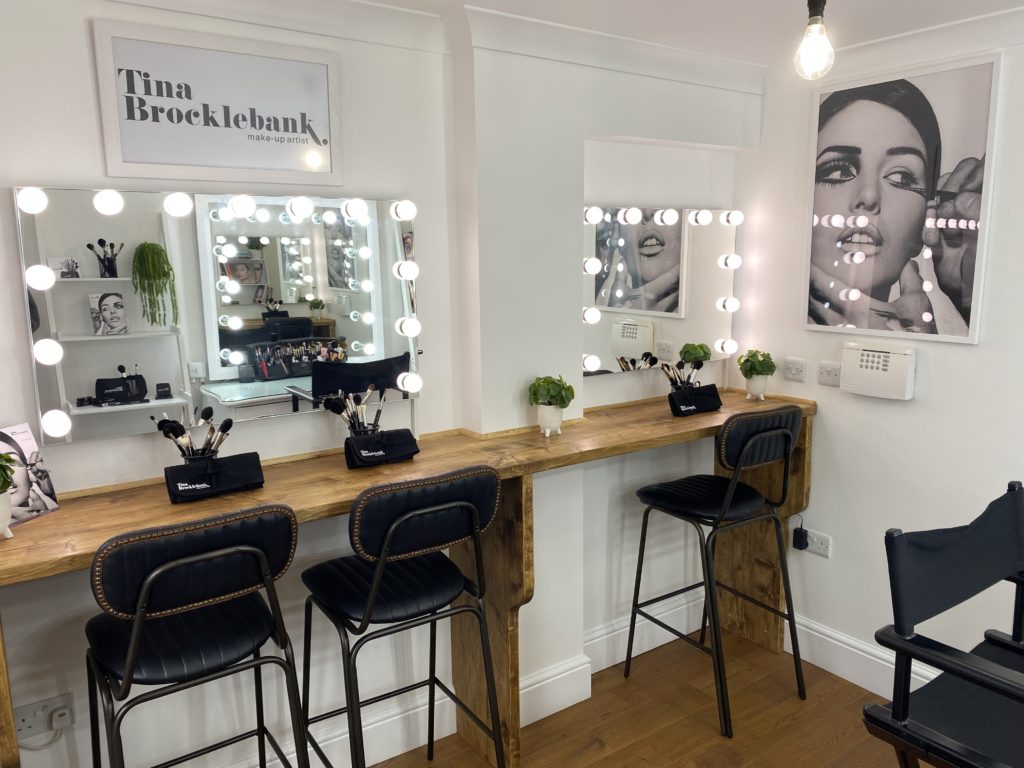 *Please note the follow-up lesson must be booked within one month after the lesson with a 3 month deadline for the follow-up lesson.
When purchasing any of these services and products together quote the discount code tinab25% to activate it, (when you contact Tina). A deposit will be required and if you wish, you can also pay in instalments.
Should you like to book any of these options please email me - tina@tinabrocklebank.co.uk telling me that you are a subscriber and we will get you booked in!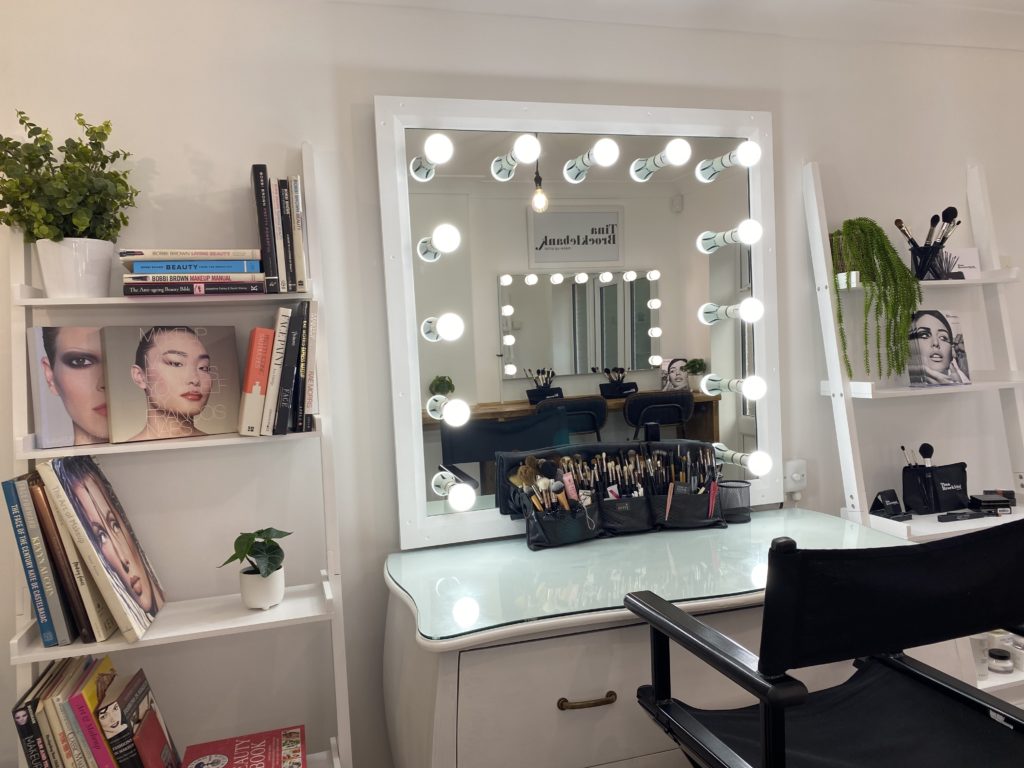 I have been busy with makeup lessons recently and also sorting out my makeup kit in my studio. I have also been trying out some new products and I am going to be aiming to do a monthly blog about these products.
I have been really busy too with Prom makeups! Here are a few photos -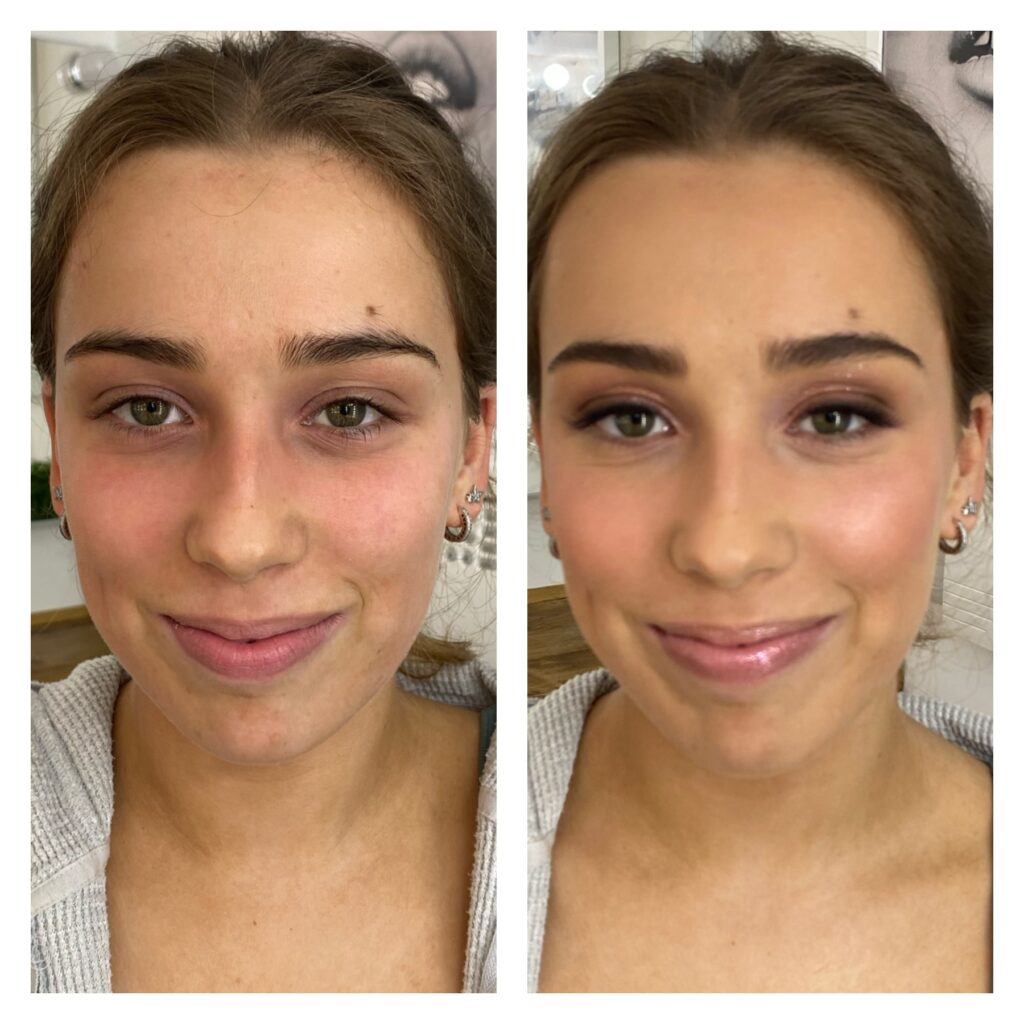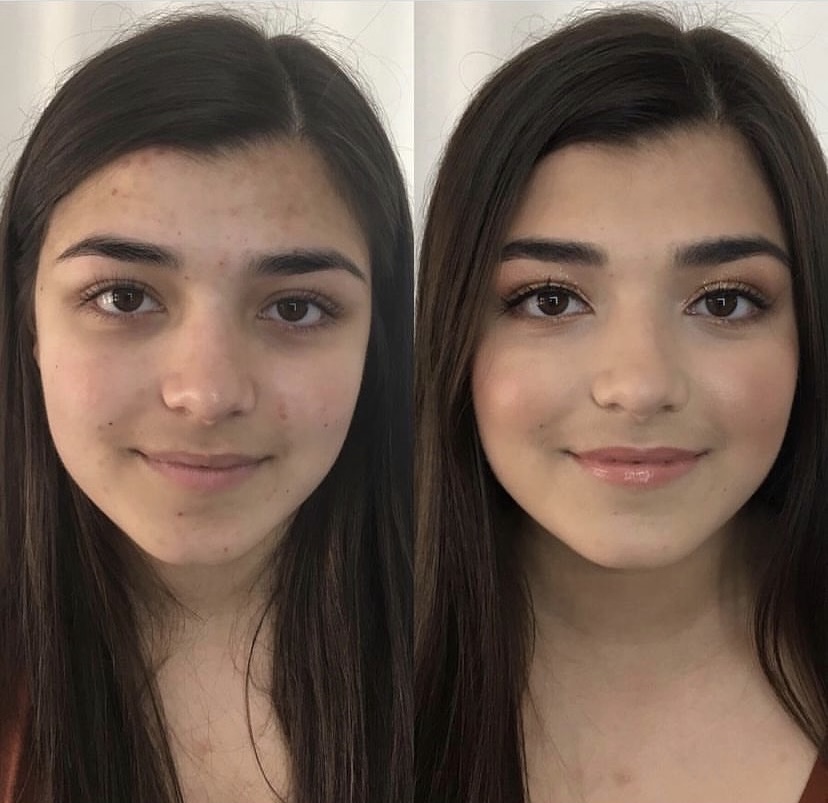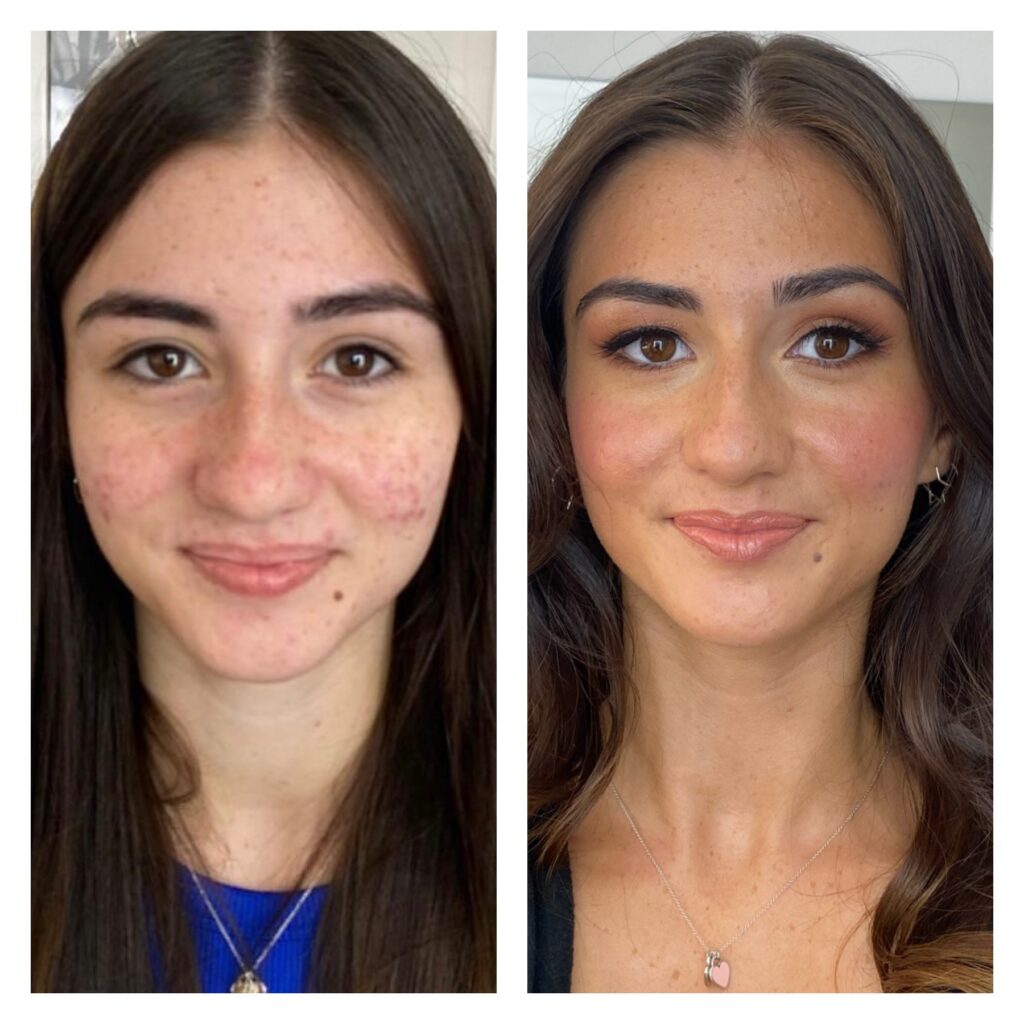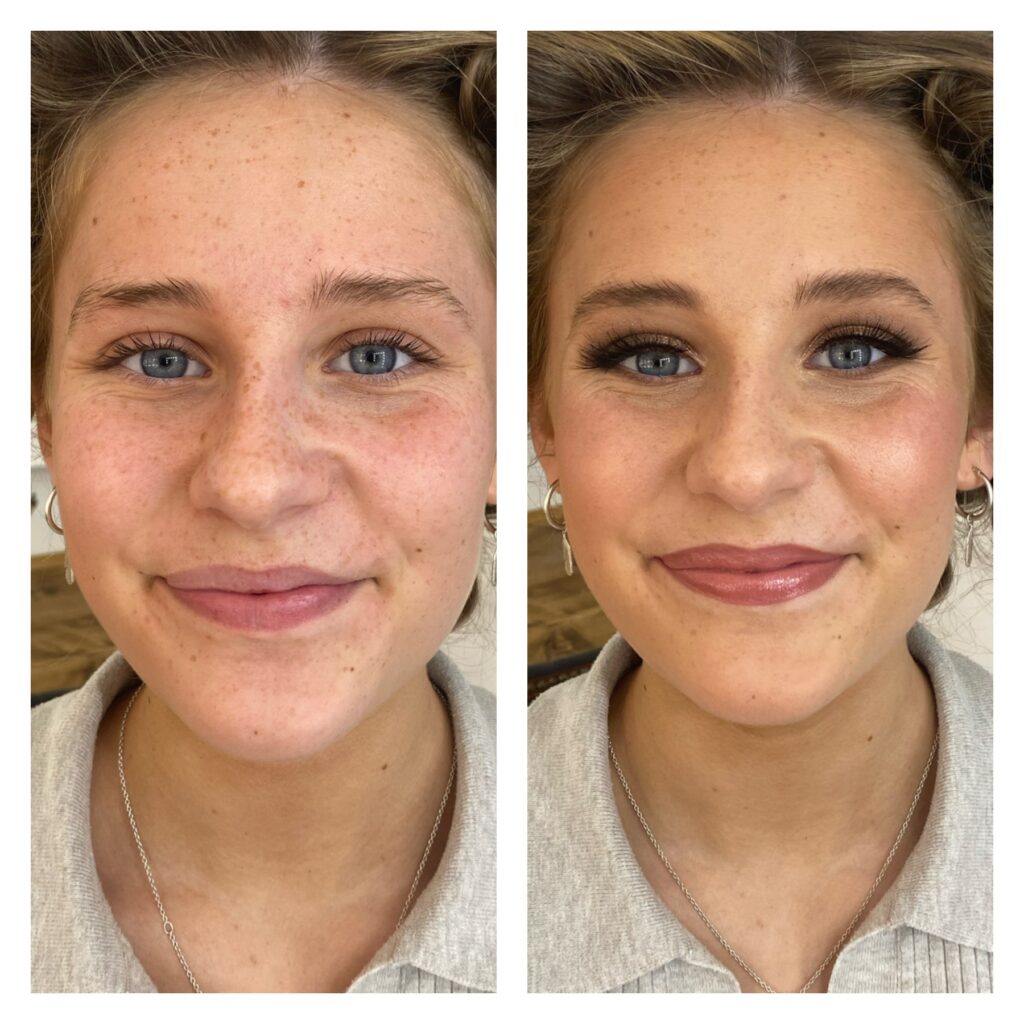 I've also launched some homemade, natural skincare oils - the first is a Cleansing oil and the second is a Facial oil. I really enjoy making these! and have been making them and using them on myself for quite some time. I kept getting complimented on my skin so thought it was a good idea to spread the love...(or oils!)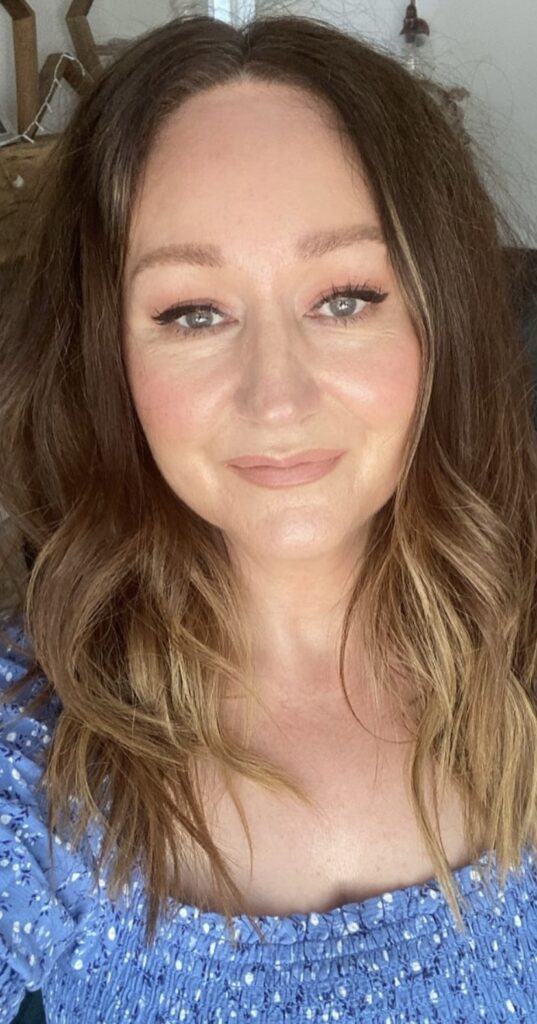 The Cleansing facial oil is good for all skin types. Coconut oil acts as a nourishing base and has amazing moisturising and nourishing properties with anti-bacterial and anti-inflammatory qualities. Castor oil acts as a purifier and cleanser and encourages collagen production penetrating deep into the skin, giving you a healthy glow. Rosehip oil is high in anti-oxidants and helps regenerate damaged skin tissue. Lavender and chamomile essential oils have anti-inflammatory, anti-bacterial and anti-viral and skin soothing powers. (Avoid use around the eyes).
The Facial oil is very nourishing and great for dry skin. It's full of protein and fats. Avocado oil is ideal for dry skin, rich in Vitamins C, E and K, magnesium and potassium. Rosehip oil is very high in essential fatty acids which helps regenerate damaged skin tissue. It penetrates deep into the skin and stimulates collagen production. It is also moisturising and anti-inflammatory and helps heal wounds and soften scars. (This is not for use around the eye area).
If you would like to purchase any of these please email me.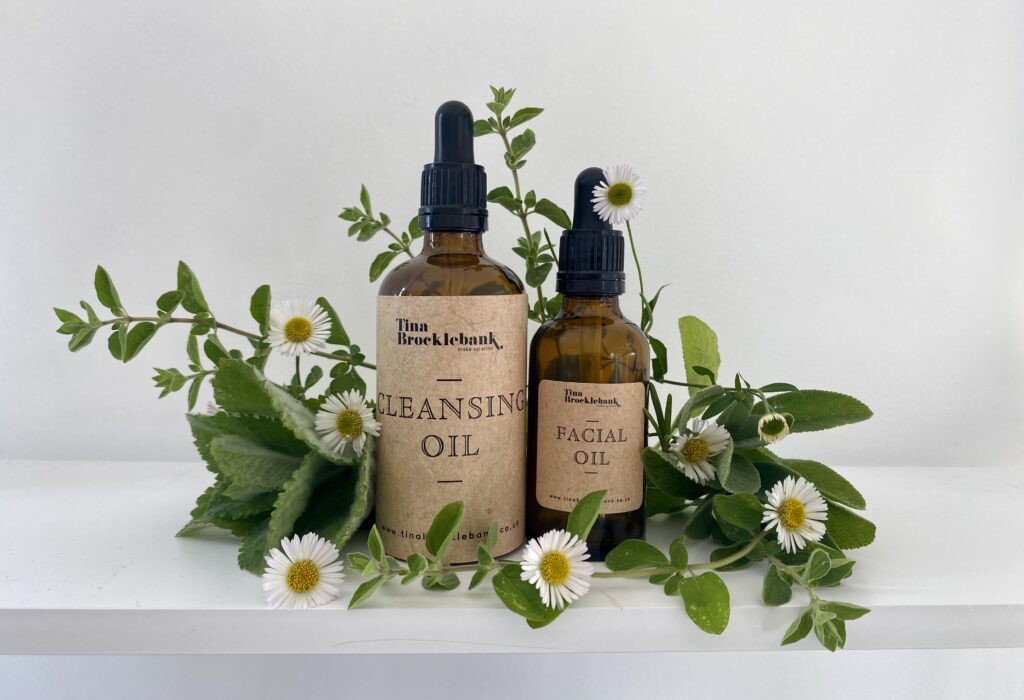 Here's some information about some products I have been loving -
Bobbi Brown Tinted moisturising balm - Sadly discontinued, however, this has been one of my fave products for years. So now that Bobbi Brown doesn't own the brand anymore and has her own brand called Jones Road Beauty, I can see that after being an avid fan of her and her products, (since working for her in 1997!), that most of the Jones Road Beauty products are her going back to her "essentials" - and by that I mean products that are easy, classic and natural. So, it makes me very happy that she has remade the Tinted moisturising balm for Jones Road called 'What the foundation"! (£42) its exactly the same. Perfect if you want a lovely dewy glow with a slight tint, excellent for dry skins. It has a slightly heavier texture than your usual tinted moisturiser and gives a lovely glow. Great for Autumn/Winter months too. It has a light-medium coverage. You just scoop out the desired amount and apply it to the face using fingers/brush/sponge, (I prefer my fingers), it blends seamlessly and easily into the skin and makes my skin look so much more radiant and dewy, it's a beautiful product.
Maybelline Brow drama - Sculpting brow mascara, (£7.99). I have been using this for years now and the shades are bang on and a great price too. You just apply your brow product first for definition, (if required), then use the brush applicator to gently swipe through the brow hairs to set the hairs in place. I like a natural, feathery look so this is perfect for this kind of look. It is also great if you have any stray hairs/grey hairs in your brows as it will tame them and tint them effortlessly.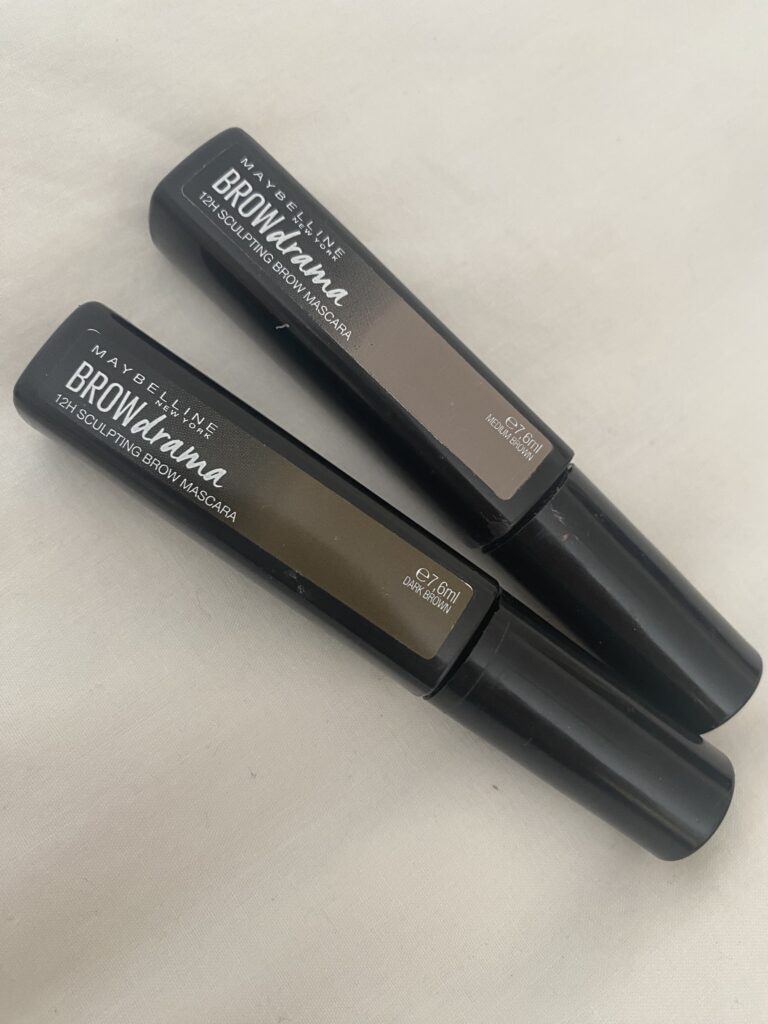 3INA The no-rules stick 503, (£15). I first saw this being used by the fab and beautiful, Sam Chapman on her Instagram. It looked amazing on her, (but then everything does!) Basically, it's a multitasker product. A gorgeous nude pink shade and you can use it for lips, cheeks and eyes. It is creamy but not too creamy, and easy to blend. Great for mature skin and quick to use, but I wasn't feeling the "sheer-ness" it didn't really do anything for me at all. I think it would be more suited for a holiday look, just to add a little bit of colour.
UK Lash serum, (£37.99) - I am always up for a lash serum! I previously used Lilash, but it was working out expensive every 3 months or so, I think it was about £80/£90, it had seemed to have stopped working for me too, so I had heard good things about this new lash serum and my lashes were looking very stumpy and I was a bit worried about them to be honest! I started to use this and I am about 6 weeks on I would say, and the amount of clients who have commented and asked me if I am wearing false eyelashes! My lashes are definitely longer and thicker and when I apply mascara it's so much better now. I would highly recommend this product its so good.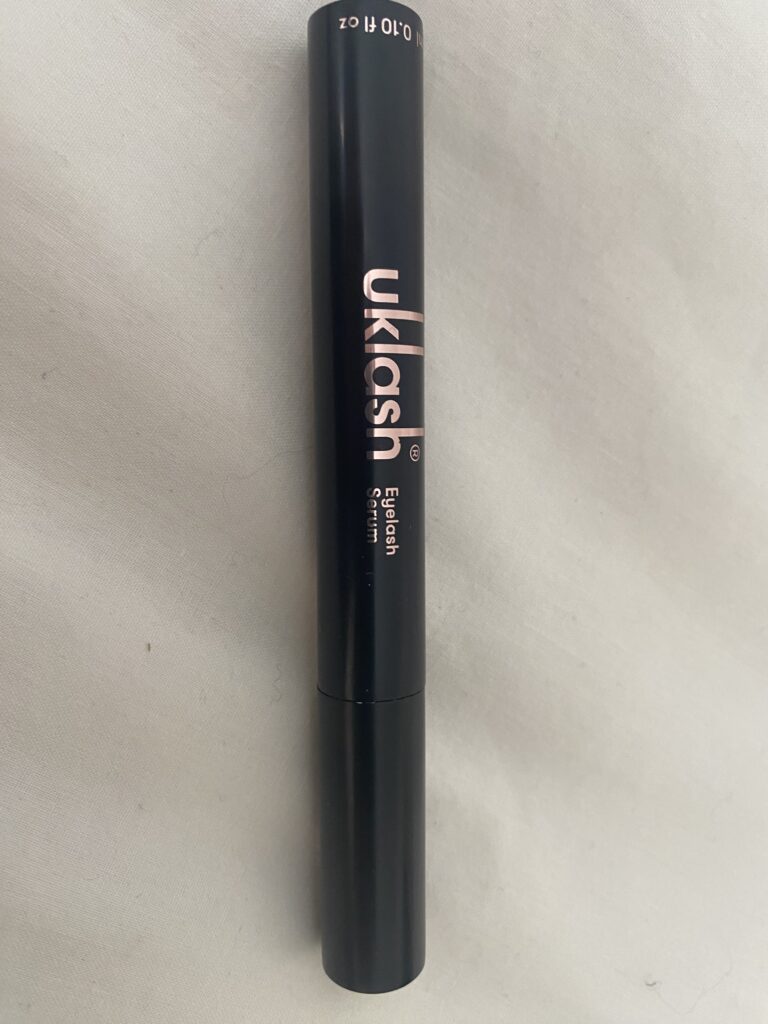 Max Factor Miracle pure range - I got sent lots of products to try from this brand, (I love me a bit of Max Factor I must say). The foundation is lovely. Great shade range and even has an SPF30 in, Vitamin C and Hyaluronic acid so great for dehydrated skin, (like mine!) I also love the Infused cream blush, this has Hyaluronic acid in too, the shade Sunlit coral is especially pretty. A lovely texture and vegan too! You only need a very tiny amount because it is so pigmented! Apply it after foundation and blend with your fingers or a brush. It's nice and creamy so makes you look fresh and it's very natural, once blended. I much prefer a cream blush these days, I think on my skin it is a lot more flattering and I use a cream blush lots on my clients. You can always layer too with the same shade in a powder blush if you prefer.
Max Factor 2 in 1 Lash wow mascara, (£12.99) - I was sent this to try from Max Factor. I always usually use Max Factor anyway for my mascara, (the 2000 calorie Curl addict one). This one is bloody lovely though! thickening, lengthening and has a gimmicky brush system where you can choose which brush you wanted to use to create different effects by twisting the handle. No flaking or smudging and you just remove with an eye makeup remover. It is not waterproof but most aren't anyway, even when they say they are. This is very long lasting and I would recommend.
Danessa Myricks beauty, Magic set and seal Color fix, (£20). This is a mixing medium basically and it helps to ensure products are waterproof. I like to apply it over eye pencils and sometimes over a lip pencil before lipstick. This ensures that the product doesn't budge or transfer anywhere. A really great product. I got mine from Guru Makeup emporium in London.
Beauty Pie products - Well, what can I say about Beauty Pie?! To be honest, I think I am a little bit hooked! there are so many great products to choose from, great quality and great price too! My favourites have to be the All-in-wonder Illuminating primer and Triple luminizing wand.
The primer has a little bit of tint in it so it evens out the skin. The shade is Nude glow. It's one-part opalescent light-refracting magic, one-part Diamond Core Powder, and laced with Vitamin E for a perfected, protected celestial complexion. Use alone to illuminate, or layer under your base for a brightened, beautiful, budge-proof finish. For sleepy, sad or sallow skin, it's really beautiful and only £10 for members! (You pay £59 to subscribe for the year and this enables to access to lots of savings).
The luminzing wand (£9), is fab and my fave product from them at the moment. A lovely creamy texture and much cheaper than the Charlotte Tilbury highlight wand and gives a beautiful, natural sheen to the skin. I use it on the top of my cheekbones, inner corners of eyes, under the arch of my brows, bridge of nose and cupids bow. It has Soft-Blur Microspheres and UltraGlow Coated Pearls for a natural-looking glow without the glitter, really beautiful.
The Beauty Pie Wrap star tubing mascara is really fantastic too. It wraps every lash in a glossy, smudge-proof colour for 'locked and loaded' lashes.
"The Absolutube™ technology coats every lash in a smooth, glossy polymer tube for dramatic length and lasting curl. Stays smudge and flake free until you remove by simply sliding off with warm water. From Korea. Innovative and deluxe". It does what it says without a doubt!
Barry M Lid Lock, (£4.99) - I thought I would give this a go, as I have always used the NARS Pro prime one but I was in my local Tesco and bought some. It's really good - nice texture - great if like me, you have oily lids. It preps your eye area and smooths. It also ensures it doesn't crease. You just apply with your fingertips and blend. Really great and great price!
Anyway, bye for now as I think that is enough to be going on with!
Have a great Summer!
Tina x x x